Title: Crown of Midnight
Author: Sarah.J.Maas
Series: Throne of Glass #2
Genre: Fantasy
Page Count: 418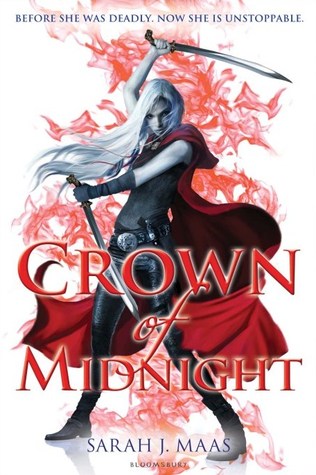 Synopsis
Crowned by Evil.
Bound by Duty.
Divided by Love.Celaena Sardothien, royal assassin, is the King of Adarlan's deadliest weapon. She must win her freedom through his enemies' blood – but she cannot bear to kill for the crown. And every death Celaena fakes, every lie she tells, put those she loves at risk.Torn between her two protectors – a captain and a prince – and battling a dark force far greater than the king, Celaena must decide what she will fight for: her liberty, her heart or the fate of a kingdom
I finally got around to reading the sequel of Throne of Glass which I reviewed not so long ago and I have to say it wasn't too bad. Crown of Midnight is jam packed with action, badassery and sassy humour that you won't ever get enough of. Oh and did I mention the eternal plot twists?
Plot
To be perfectly honest the overall direction of the story was pretty predictable and yet there were these sub plots which involved some interesting turn of events that kept me reading. At times I felt like there was a lot going on but despite that it didn't feel too complicated.
Unlike the first book this one was more up my alley as it focused on action and blood and gore, some people might find this disgusting but I much prefer it to courtly balls and whatnot. No offense if you do like courtly balls, it's just not my cup of tea.
Characters
I finally got the romance I was hoping for which made me very content! Celaena and Chaol had a very raw and realistic relationship but believe me there were certain moments where I wanted to cry into my pillow because I felt so alone. Ah they're perfect!
I'm very impressed that Celaena's badass side was revealed more and her aggression gave me such a kick. Taking a closer peek into her past also developed the story well. Dorian's development throughout this book remains an intriguing subject right now which I'm sure the third book will explain in detail.
Another good point is that it felt like I was reading through a varied point of view in Crown of Midnight. The first book just seemed to have me inside Celaena's head but this one I was in the King's head or Chaol's head and I enjoyed that!
Writing
Sarah.J.Maas has a fairly simplistic writing style that you can just whiz through. Despite that I felt pretty detached from the story, maybe because I was reading so quickly or maybe not. There seemed to be a lack of the element of surprise which I think would've alleviated the book so much.
Overall, it was a fairly mediocre read but still better than the first book. I've heard lots of internet praise for the third book so I cannot wait to dig in.
Rating
Twitter | Instagram | Goodreads