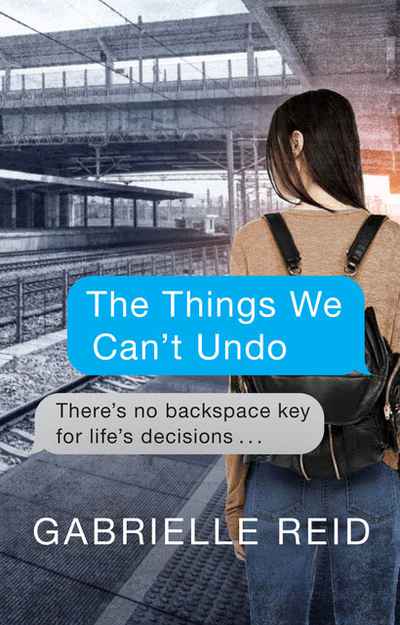 I had the chance to interview the lovely Gabrielle Reid whose new novel hits shelves really soon so go grab yourself a copy!
---
There's no backspace key for life's decisions.
Samantha and Dylan are in love – everyone knows it. So it's no big deal when they leave a party for some time out together. But when malicious rumours surface about that night, each feels betrayed by the other. 
Will Sam make a decision she can't take back?
---
What was your main motivation behind writing the novel?
I wanted to start conversations, and I wanted those conversations to really consider things from more than one side. Without going into too much detail, I've had some personal experiences that made me particularly passionate about the topic of consent and how inadequate "no means no" is for teaching it. Several years back, I think it was around the time of the Steubenville High School rape case, I was discussing sexual violence on a parenting forum. One comment stuck with me, along the lines of "ask a roomful of men if they'll rape a woman and you won't find many who will say yes. Ask them 'would you have sex with a girl so drunk she can barely stand' and suddenly you get a much uglier picture of what guys will admit to". At the time, I had a baby son (and no daughters yet), so I found myself thinking very seriously about the perpetrators and whether better education could have prevented them from doing such a terrible thing to that girl.
It was hard for me to empathise with the perpetrator. Really, really hard. Before I sat down to write the book, I disliked my main character, Dylan, and was prepared to write a story where he got thoroughly smacked down for his actions, but in trying to keep it realistic, that's not the story I ended up with. I think that's a good sign, though, because I want this novel to be the catalyst for conversations – ones that go deeper than 'he got what he deserved' and right to 'how did this happen? What did he fail to understand?'. I hope I don't excuse Dylan's behaviour or suggest that the consequences he faced were in any way comparable to the suffering Samantha (his girlfriend and victim) experienced, but at the same time, I want his story to be a warning to young men, their parents, teachers and girlfriends. Because it really is that easy to become a rapist.
If there is one key thing that you would like readers to take away from this book, what would it be?
That even if you think you're a good person – even if you are a good person – your decisions can have devastating consequences, so take your choices seriously and don't stop paying attention to how those around you feel. In my book it isn't just Dylan who makes a decision that seriously hurts a number of other innocent people – Samantha, as well as her best friend, Tayla, respond to the crime in some drastic ways that cause a lot of pain to each other, family and friends etc
There are many budding authors out there who might be curious about the publication process so, tell us a bit about your experience getting published
The number 1 thing I guess is that it was long! There were years of writing before getting to a complete first draft, then years of editing and pitching before getting an agent. And in the end, that book isn't the one I've now had published! I consider it my "apprenticeship novel" and I don't regret the time I spent on it, because that's where I learnt better writing, where I found an amazing writer's group, and where I built the first positive connection with an agent. But if I hadn't moved on to the next thing, I wouldn't be here now. Since then I've continued with that same writer's group and gleaned bits and pieces of knowledge about publishing short stories, writing query letters, how to spot a dodgy publisher… too much to share here in one go, but I'm more than happy to chat to anyone who has specific questions!
I've talked in a little more detail on my blog (link below) about what led me to Ford Street and what it's been like working with my publisher, Paul. I think the process for me was a fair bit quicker than I've heard from other writers at major publishers, but I'm not really sure why, except that we didn't have advance proof copies before a complete print run. There are a LOT of people involved, even with a very small publisher. I thought about it one day and it's no wonder authors only earn a small portion of the RRP, as those books are also helping the publisher to recover the costs of a structural edit, copy edit, designer/formatter for print, cover design, printer, delivery, warehouse etc. Not to mention the retailer and all their staff! Each step was exciting for me though, as it took me one step closer to publication.
What made you drawn towards writing in the young adult genre?
I kind of fell into it, really. My first book I set out to write as adult fiction, but as one of the two protagonists was sixteen (the other was in his 70s) many people suggested it was at least a young adult crossover. When I started writing The Things We Can't Undo, I found the words and voice came to me much more naturally, and I sought out a writer's group of other YA authors. I've been writing seriously since I was a teenager, so some of my earlier stories were very YA in nature, including two novels I never finished. Then I worked as a high school teacher, and married another. I led youth group and mentored teen girls at my church; teenagers have always been a part of my life. I found those adolescent years were the ones that really defined who I am – that was when I developed my own faith, I settled into writing and creative pursuits as a real passion, my mental illness reared its ugly head, I established friendships that still last today etc.
Do you have any other projects underway that readers can look forward to?
I do, but none in the publication pipeline yet! I'm writing one that deals with eating disorders (another illness I unfortunately have firsthand experience with) and a social justice issue that is very important to me. I'm also thinking of reworking that "apprenticeship novel" into something different and more YA in nature. It's about a young girl trying to connect with her biological father, who has early onset Alzheimer's disease.
---
FOLLOW THE AUTHOR
Website and blog: www.justkeepreiding.com
Twitter and Instagram: @reidwriting
Facebook: https://www.facebook.com/profile.php?id=100006986329392