Title: The Sacred Lies of Minnow Bly
Author: Stephanie Oakes
Genre: YA Contemporary
Page Count: 400 pages
Source: Harper Collins YA
Release Date: June 22nd 2015
Synopsis: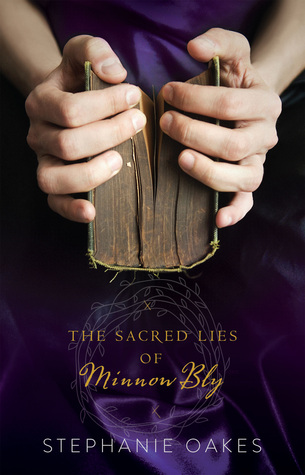 The Kevinian cult has taken everything from seventeen-year-old Minnow: twelve years of her life, her family, and her ability to trust.
And when Minnow rebelled, they took away her hands, too.
Now the Kevinian Prophet has been murdered and the camp set aflame and it's clear Minnow knows something. But she's not talking. As she adjusts to a life behind bars in juvenile detention, Minnow struggles to make sense of all she has been taught to believe, particularly as she dwells on the events that led up to her incarceration. But when an FBI detective approaches her about making a deal, Minnow sees she can have the freedom she always dreamed of; if she is willing to part with the terrible secrets of her past.
The Sacred Lies of Minnow Bly is easily one of my favourite books of the year and here are ten reasons why:
10. It has depth
This book is a psychological thriller and a crime novel but it's also so much more. It explores blind faith and poses questions such as:
How do we know what we know? Why do we choose to believe in certain things? What extreme measures are people willing to take in order to grasp onto that one bit of sanity?
9
The Sacred Lies of Minnow Bly is unique in the sense that it is very raw. The story is gory and it evokes raw emotions within you which I didn't know a book was capable of doing. I've never read anything like it
8
The story travels between Minnow's present which is in Juvie and Minnow's past in the Community with her Cult. The plot was assembled very well. In the beginning I just wanted to read all about her past but later on you realize the writing in the present is also very important  to observe Minnow's self-development.
7. You're going to want to read about Minnow Bly
Minnow has one of the most distinct voices in YA fiction. As soon as the story began I was like "woah I can already hear her voice in my head". HOW IS SOMEONE ABLE TO DO THAT. But seriously I love observant she is and honest too
6. The Feels 
If you're a fan of YA (you probably are since you're on the blog and reading this post) then you definitely go for the feels in a book.
Minnow's character has gone through so much, I mean her father cut her hands off on orders from a strange man! and the author does a really good job of showing that through Minnow's defiance in the Community, her journey towards redemption and coming to terms with her past. And you're able to empathise really well with all her emotions.
5
The writing in this book is very straight to the point. I love it because it paints a clear picture of the Community and even Juvie. I also felt like I didn't have to work very hard to understand what Minnow was feeling
4
I read a post recently on YA Midnight Reads (my favourite book blog) about how The Sacred Lies of Minnow Bly came about and you should definitely check it out.
But I am so grateful that the author decided to set this story in the modern world and not in a dystopian future. It just makes the whole idea of religious cults that much more possible to imagine and be freaked out by (we all love that don't we?)
3. Religion in YA
This is possibly the first time religion has been so exclusively discussed in YA. It adds to the awesome diversity thing we have going and I love the fact that this books voices questions that literally all of us have asked sometime in our lives.
2
I have nothing bad to say about this book. Trust me when I say I am a very picky reader in the sense that I nit-pick the smallest things in a book but I just cannot find anything wrong with The Sacred Lies of Minnow Bly.
If the above nine reasons weren't convincing enough then I hope this final tenth reason convinces you to go out of your houses on June 22nd to buy this book
1. BECAUSE IT'S JUST SO GOOD
But seriously guys. The Sacred Lies of Minnow Bly. Get on it.
Rating