Title: Afterworlds
Author: Scott Westerfield
Genre: YA Fantasy
Page Count: 599
Synopsis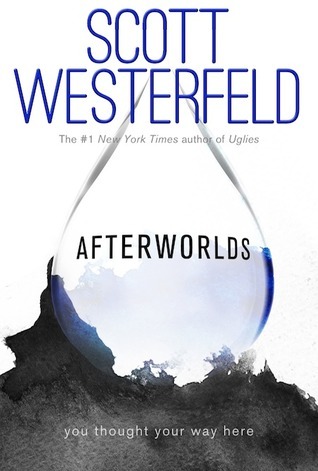 Darcy Patel has put college and everything else on hold to publish her teen novel, Afterworlds. Arriving in New York with no apartment or friends she wonders whether she's made the right decision until she falls in with a crowd of other seasoned and fledgling writers who take her under their wings…
Told in alternating chapters is Darcy's novel, a suspenseful thriller about Lizzie, a teen who slips into the 'Afterworld' to survive a terrorist attack. But the Afterworld is a place between the living and the dead and as Lizzie drifts between our world and that of the Afterworld, she discovers that many unsolved – and terrifying – stories need to be reconciled. And when a new threat resurfaces, Lizzie learns her special gifts may not be enough to protect those she loves and cares about most
This book was unlike anything I've ever read. I mean it's a book inside a book , how can you not expect queerly brilliant things already?
Scott Westerfield just manages to make it so easy for the reader to transition from Darcy into Lizzie chapters and I feel like he's one of the few authors that can pull this book-ception off.
Since they're essentially two separate stories I have two separate things to say about them so to avoid confusion let's begin with
Darcy
Darcy's PoV told in third person is a brilliant inside scoop into the world of novel-making and publishing. We follow the business side of writing, the editing and the marketing but we also see the social side of it, from parties to lunches.
One thing I realized is that when your novel is actually going out into the world there is so much you have to consider, I mean people's opinions and politics and gah I thought writing was just about pouring your heart out and not caring what anyone else thought.
Darcy's chapters also provided a backstory to some of the decisions Lizzie makes in her story and I quite like that.
As a character, Darcy is flawed, she doesn't handle things in the most mature way, she feels like a child who's been handed a basket of responsibility and she doesn't know what to do with it. But the best thing is, I feel like she's meant to be flawed you know, people are meant to be flawed and Darcy was a very good representation of a person. (as in she was realistic)
I believe Afterworlds is one of the first novels if not the first novel I've read where the protagonist is involved in a same sex relationship and I love it cuz huzzah for diversity in YA. Imogen, Darcy's girlfriend is just as flawed and beautiful and I like how their relationship was…like a real life relationship. (I'm SO GREAT at describing things!)
Lizzie
While Darcy's PoV is systematic Lizzie's is chaos, it is dark, oh so dark. I know many people have and will already say this but that first chapter when the terrorist attack happen? Brilliant.
At the beginning of the book curiosity had me hooked to the Lizzie chapters. Finding out about the Afterworld and Lizzie having freaky experiences.  But towards the end I preferred Darcy's chapters more and more, I don't know Lizzie's so inconclusive, I mean you never really find out everything about the Afterworld and the ending is a bit out the blue I believe.  There's just room for more detail is all I'm saying.
Afterworlds was a unique novel which definitely left an impression upon me so you should totally check it out
Rating