Title: The Last Star
Series: The 5th Wave
Author: Rick Yancey
Genre: YA Science Fiction
Synopsis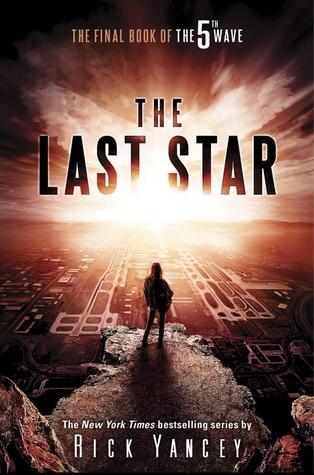 The enemy is Other. The enemy is us.
They're down here, they're up there, they're nowhere. They want the Earth, they want us to have it. They came to wipe us out, they came to save us.
But beneath these riddles lies one truth: Cassie has been betrayed. So has Ringer. Zombie. Nugget. And all 7.5 billion people who used to live on our planet. Betrayed first by the Others, and now by ourselves.
In these last days, Earth's remaining survivors will need to decide what's more important: saving themselves…or saving what makes us human
You have no idea how much I have been anticipating this novel ever since the beginning of time, well ever since I finished the prequel. Did it live up to the hype? Ehhh..
I'll start with the things I didn't like so we can finish on a good note. The novel was majorly made up of characters running around everywhere and doing all these crazy mission-impossible things. It was chaos. Oftentimes, I didn't really see the point in focusing so much of the novel on the action you know?
As a consequence of creating an action based novel, the characters weren't given time to grow, I mean yeah I guess they've had two novels before to grow and all but in this novel (bit of a spoiler) we see a 7 year old shoot someone's brains out, a 7 year old who's forgotten his alphabet. I mean can we talk about the psychology of that? I absolutely adored the prequels because of how psychologically focused they were.
Also, the main burning question of the novel as to why the aliens decided to conquer Earth is still left a bit ambiguous, which is good in a way but I'd rather not fill the blanks myself.
In saying all that, the novel definitely had the BEST shock factor, I absolutely could not put it down and it was gore and emotion and at one point it went all Interstellar. The writing as I said before was pretty action packed but there were hints of the poetic Rick Yancey that I like.
I like how Ringer and Cassie overcame their differences in the end.
I'm still trying to come to terms with the ending but I guess what happens happens right?
Rating