Title: The Sword of Summer
Author: Rick Riordan
Series: Magnus Chase and the Gods of Asgard #1
Genre: Fantasy/ Mythology
Source: Puffin Books
Synopsis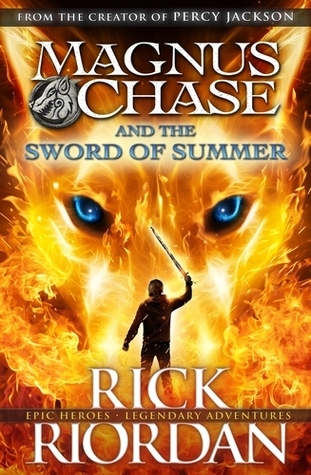 Magnus Chase has always been a troubled kid. Since his mother's mysterious death, he's lived alone on the streets of Boston, surviving by his wits, keeping one step ahead of the police and the truant officers.
One day, he's tracked down by a man he's never met—a man his mother claimed was dangerous. The man tells him an impossible secret: Magnus is the son of a Norse god.
The Viking myths are true. The gods of Asgard are preparing for war. Trolls, giants and worse monsters are stirring for doomsday. To prevent Ragnarok, Magnus must search the Nine Worlds for a weapon that has been lost for thousands of years.
When an attack by fire giants forces him to choose between his own safety and the lives of hundreds of innocents, Magnus makes a fatal decision.
Sometimes, the only way to start a new life is to die . .
Magnus Chase was like a throwback to my Percy Jackson reading days (which weren't that long ago..). It was the same witty sarcasm that Riordan is renowned for on his Twitter and in his books but wayyy funnier.
The book is basically a Viking Encyclopedia in disguise, any Riordan fans would expect to know everything about the Vikings by the end of the book, seriously why can't he be my teacher? I'm actually learning stuff whilst having fun, yeah guys that's a thing.
The plot is packed with adventure and cause and effect events that leave you turning pages. The dialogue is unbelievably funny with some important life lessons hidden within (if you know to look for them).
Magnus' voice is distinct and his emotions are explored analytically, his actions and decisions are also not left without being explained.
Riordan does a very good job of adding diversity into the book through characters with different religions and disabilities. He also manages to give the sidekicks "screen time" by explaining their pasts. I have a feeling he is going to add another POV in the sequel.
Speaking of the sequel, the novel thankfully did not end on a cliffhanger however, there is much to be explored I can tell.
Rating