Title: Captive Prince
Author: C.S.Pacat
Series: Captive Prince #1
Genre: Fantasy
Synopsis: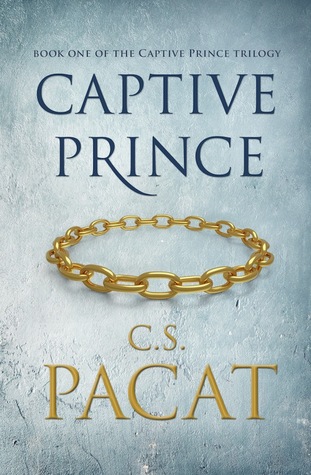 Damen is a warrior hero to his people, and the rightful heir to the throne of Akielos, but when his half brother seizes power, Damen is captured, stripped of his identity, and sent to serve the prince of an enemy nation as a pleasure slave.
Beautiful, manipulative and deadly, his new master Prince Laurent epitomises the worst of the decadent court at Vere. But in the lethal web of Veretian politics, nothing is as it seems, and when Damen is caught up in a dangerous play for the throne, he must form an alliance with Laurent to survive and save his country.
For Damen, there is just one rule: he must never reveal his true identity. Because the one man Damen needs is the one man who has more reason to hate him than anyone else . .
This book is unlike anything I have ever read before. I would have to say it resembles Game of Thrones quiet a lot. Going into the book I expected it to be about wars and dragons you know but it;s about..sex slavery. Yep.
Although the content is mature, the central focus of the novel is the highly sophisticated mind-games that occur in a kingdom and a court, the relationship between two very complex yet alike characters and just politics really. And I love all those things oh my .
It is a short novel but every page is packed with adventure and I admire how systematically the plot is arranged. It's graphic and brutal and ruthless and it will leave you turning pages.
I highly enjoyed watching Damen and Laurent's relationship develop, it's very amusing and almost like watching a game of cat and mouse.
The book leaves you on edge from the get go, I believe it's very sophisticated fantasy with characters that I can see have been very well thought out.
Rating