Title: An Ember In The Ashes
Author: Sabaa Tahir
Genre: Fantasy
Page Count: 446
Source: Harper Voyager
Synopsis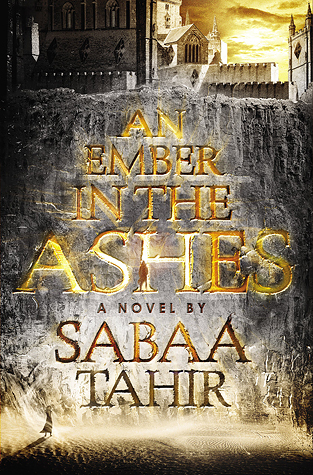 Laia is a slave. Elias is a soldier. Neither is free.
Under the Martial Empire, defiance is met with death. Those who do not vow their blood and bodies to the Emperor risk the execution of their loved ones and the destruction of all they hold dear.
It is in this brutal world, inspired by ancient Rome, that Laia lives with her grandparents and older brother. The family ekes out an existence in the Empire's impoverished backstreets. They do not challenge the Empire. They've seen what happens to those who do.
But when Laia's brother is arrested for treason, Laia is forced to make a decision. In exchange for help from rebels who promise to rescue her brother, she will risk her life to spy for them from within the Empire's greatest military academy.
There, Laia meets Elias, the school's finest soldier—and secretly, its most unwilling. Elias wants only to be free of the tyranny he's being trained to enforce. He and Laia will soon realize that their destinies are intertwined—and that their choices will change the fate of the Empire itself.
Wow haven't done a book review in ages.
But that's okay. I'm back in full stride baby.
This was such an elating read considering my last book was kind of meh. An Ember in The Ashes is everything you'd expect from a fantasy novel: Action, supernatural and a revolution. But what sets it apart is that it goes beyond the limit, in everything and I mean everything. To the point where even the sharpest reader won't see it coming.
Plot
This book does not wait a moment. Every paragraph there is something happening that is crucial to the story. There's action and emotion all exploding along the 400 pages of this novel.  At the beginning I thought I could predict how this novel was going to go down but I was so wrong. This novel does not hesitate to test its limits and I love it. I would give you an example but the spoilers, gah, let me know if I should do a spoilery post.
But yeah, in the end everything comes together neatly, the revelation or the explanation of what really happened was well done, it didn't waste time or drag on.
Characters
The character development was of a very high quality. I'm not kidding. From the way that Laia, the female protagonist, is a self proclaimed weakling at the start and then as the story progresses she grows into this rebel. She grows stronger as she develops new relationships and her determination to save her brother becomes that much more powerful.
And then there's Elias, the male protagonist, he was very easy to sympathize with from his views about the Empire to his regrets and simply put, with him you feel all the feels.
I also like how the relationship between Elias and Helene, childhood best friends , was explored. I mean what happens when one starts developing feelings or when you have to choose the greater good over your best friend. Really well done.
An Ember in The Ashes is a unique book in the way that it puts characters, major and minor in the spotlight. Even the bad ones get a chance at explaining themselves or showing their softer side and I like how they're not ignored or overshadowed by the main guys.
Writing
Sabaa Tahir's writing is so raw and honest. I like how she doesn't spend so much time on defining the action but the emotions the characters feel as they're taking a life or are losing someone. The world building in this world was also amazing as the history of the Empire, the different "castes" etc. were explained and I didn't happen to get confused!
As it is highly obvious, I loved this book and it was a powerful read. First time in a very long time I was actually engrossed in my reading.
Rating