Title: Fairest
Author: Marissa Meyer
Series: The Lunar Chronicles #0.5
Genre: YA Fantasy
Page count: 222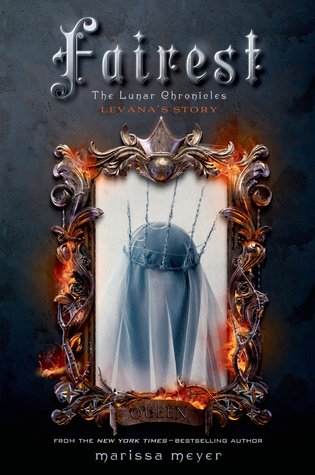 Synopsis this stunning bridge book between Cress and Winter in the bestselling Lunar Chronicles, Queen Levana's story is finally told.
Mirror, mirror on the wall,
Who is the fairest of them all?
Fans of the Lunar Chronicles know Queen Levana as a ruler who uses her "glamour" to gain power. But long before she crossed paths with Cinder, Scarlet, and Cress, Levana lived a very different story – a story that has never been told . . . until now.
Marissa Meyer spins yet another unforgettable tale about love and war, deceit and death. This extraordinary book includes full-color art and an excerpt from Winter, the next book in the Lunar Chronicles series.
Ello Ello Everybody!
A sweet, short and simple mini review for you today about the new Lunar Chronicles Novella. I've reviewed the third book here before and I definitely recommend you to go pick this series up so we can all rave about it together yay!
Queen Levana's story was dark. It was very interesting to see things from her point of view and realize that people aren't necessarily born evil, that they're not always the bully in the story but that circumstances have then made them into a bully, into evil. I guess that was the whole point of the story.
Levana has never known affection: from her parents and especially from her older sister, so no wonder in her search for true love and admiration she falls into peril and eventually ends up destroying herself and the people she loves.  She is so consumed by the idea of loving and being loved that she doesn't take a moment to understand what the actual thing means. And that, was scary.
Power was also a very interesting concept in Fairest. I think when someone for instance Levana's older sister uses her power to scar Levana it is obvious that when Levana is given the power to be Queen she becomes destructive and delusional and has psychological problems.
Other than that I really did like how the story was set on Luna (The Moon)  for a change and I absolutely freakingly cannot wait for Winter when we see even more of the Moon!
Oh and did I mention Fairest also features Baby Cinder, Baby Winter and Baby Jacin Clay? I literally got so excited there aha
My Blog Anniversary Giveaway ends in a couple days so be sure to enter!
Rating: