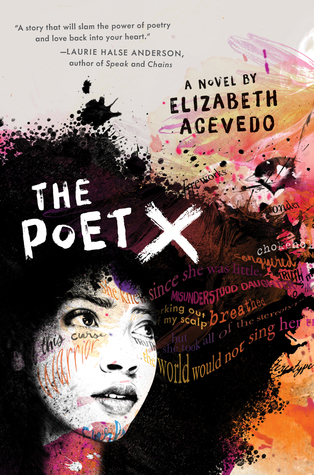 Xiomara has always kept her words to herself. In her Harlem neighbourhood, her fists and her fierceness do the talking. But X has secrets. Her feelings for a boy in her bio class, the notebook full of poems that she keeps under her bed- and a slam poetry club that will pull those secrets into the spotlight. Because in spite of a world that might not want to hear her, Xiomara refuses to stay silent. 
---
As soon as I heard that this book was written in all poetry format I wanted to get my hands on it.
The beginning of the novel absolutely grips you in, X has this prominent voice that travels beyond the pages and you're immersed in this world where this girl is trying to find herself and break stereotypes and just be herself.
The author sets the scene beautifully by capturing the diversity of the neighbourhood, the history of X's parents, her background and her standing on religion. This book is like a neat little package of diversity and I love it.  One of the things this book did really well is that it managed to put every character into the spotlight through X's poems so no one felt like a sidekick
In terms of the writing itself, it is moving and creative and fresh. Yet, it's still not the kind of book you wanna finish in one sitting because every page makes you think. X's story makes readers reflect on their own experiences trying to find themselves and about how if you're passionate about something you should just go for it.
The only criticism I have is that the plot could have been paced better. I mean there is the build up to the drama, then everything goes down and then bam everything is resolved. I would've loved if there was more focus on how relationships were reconciled because that's often where readers find completion. Some issues were left unresolved, so I'm sensing a sequel?
The Poet X released on 6th March 2018. I would highly recommend grabbing a copy. Thank you to Hardie Grant Egmont for providing me with one!