Title: Queen of Shadows
Author: Sarah.J.Maas
Series: Throne of Glass #4
Genre: YA Fantasy
Synopsis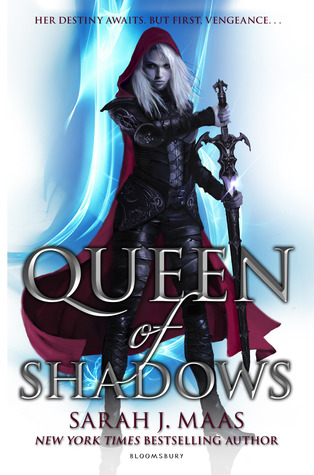 The queen has returned.
Everyone Celaena Sardothien loves has been taken from her. But she's at last returned to the empire—for vengeance, to rescue her once-glorious kingdom, and to confront the shadows of her past…
She has embraced her identity as Aelin Galathynius, Queen of Terrasen. But before she can reclaim her throne, she must fight.
She will fight for her cousin, a warrior prepared to die for her. She will fight for her friend, a young man trapped in an unspeakable prison. And she will fight for her people, enslaved to a brutal king and awaiting their lost queen's triumphant return.
The fourth volume in the New York Times bestselling series contrinues Celaena's epic journey and builds to a passionate, agonizing crescendo that might just shatter her world.
Plot
The book from the get go had a very strong plot. Of course most of the elements were in place from the previous three books however, Maas had an interesting way of concealing details which later bought an element of surprise to the overall story.good.
The book was very focused on the action but more so on the planning and scheming of events which I didn't mind. The plot twists especially left me gasping out loud and it was an amazing way of keeping the reader hooked I believe.
I liked how everything did not go as planned and even the smartest characters were deceived, it kept an element of reality in the otherwise highly supernatural story. Another thing that was really intriguing was how brutal and bloody and down to Earth Maas decided to keep it. Although I was cringing at some parts, the exploration of physical and psychological torture in great detail isn't something you'd complain about from a book like this.
Characters
As I've mentioned before the book was heavily reliant on plot but certain characters were introduced and developed as well. Manon's character development was the most significant to me in this book, the introduction and development of Lysandra's character and her friendship with Aelin/Calaena was also good.
The book explores so many different POVs and I find that a very interesting way of following the story while getting everyone's input at the same time. Not once did I get lost.
In the end, everything came together really well. It wasn't a happily ever after but more of an open ended finish so obviously there is room for book five which I only have to wait one more year for
Rating