Title: Atonement
Author: Ian McEwan
Genre: Historical Fiction
Synopsis: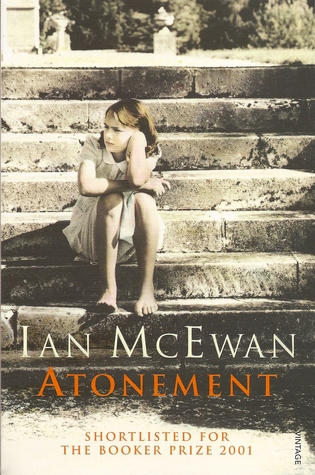 Ian McEwan's symphonic novel of love and war, childhood and class, guilt and forgiveness provides all the satisfaction of a brilliant narrative and the provocation we have come to expect from this master of English prose.
On a hot summer day in 1934, thirteen-year-old Briony Tallis witnesses a moment's flirtation between her older sister, Cecilia, and Robbie Turner, the son of a servant and Cecilia's childhood friend. But Briony's incomplete grasp of adult motives—together with her precocious literary gifts—brings about a crime that will change all their lives. As it follows that crime's repercussions through the chaos and carnage of World War II and into the close of the twentieth century, Atonement engages the reader on every conceivable level, with an ease and authority that mark it as a genuine masterpiece.
I initially wasn't going to write a review of this novel since we're studying it at school but a friend encouraged me (Thanks M!) so here we go,
From the beginning, I knew Atonement was messed up, A self-centered, pretentious 13 year old protagonist by the name of Briony continues to send the lives of everyone around her into turmoil because of her wild imagination and attention seeking nature. I could write a whole essay on how displeased I am with Briony however, it's not an easy job to create characters whom you can have such deep unresolved hatred for so Woo McEwan, everyone hates Briony.
To be honest, Atonement is the kind of novel that if  I were reading it as leisure, it wouldn't leave a lasting impression on me. Just the fact that we've been asked to analyse it is making it apparent to me how much depth the novel has. The author plays around with time in a way that I didn't even think was possible, stretching out two days in one part and then condensing a whole war in the second.
For the majority of the novel, you feel like you're being led by the hand as events upon events occur until you've stumbled upon the God Forsaken Epilogue. The novel is written in very descriptive detail so at times it almost gets too much, especially in the first part where for example McEwan would spend TWO WHOLE PAGES describing a table or something.
The ending is another essay topic in itself but for those who have read the book or seen the movie, I don't believe what she did can be classified as redemption, it was a base-born cowardly move.
Atonement is definitely worth a read if you're looking for an interesting read that will make you think and if you're looking to have a screaming heated discussion with your friends about how much you hate this non-existent 13 year old.
Rating