Title: Splintered
Author: A.G.Howard
Genre: Fantasy
Page count: 371
Synopsis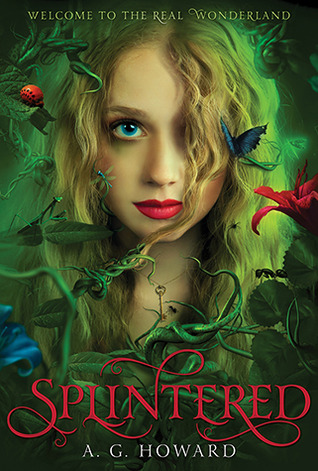 This stunning debut captures the grotesque madness of a mystical under-land, as well as a girl's pangs of first love and independence.
Alyssa Gardner hears the whispers of bugs and flowers—precisely the affliction that landed her mother in a mental hospital years before. This family curse stretches back to her ancestor Alice Liddell, the real-life inspiration for Lewis Carroll's Alice's Adventures in Wonderland. Alyssa might be crazy, but she manages to keep it together. For now.
When her mother's mental health takes a turn for the worse, Alyssa learns that what she thought was fiction is based in terrifying reality. The real Wonderland is a place far darker and more twisted than Lewis Carroll ever let on. There, Alyssa must pass a series of tests, including draining an ocean of Alice's tears, waking the slumbering tea party, and subduing a vicious bandersnatch, to fix Alice's mistakes and save her family. She must also decide whom to trust: Jeb, her gorgeous best friend and secret crush, or the sexy but suspicious Morpheus, her guide through Wonderland, who may have dark motives of his own
I'm a sucker for fairy tale re-tellings. Alice in Wonderland is a childhood classic and I remember always being awe-struck by the rabbit hole and how the marmalade would float. This book made me feel nostalgic and twisted my gut all at the same time. Alice in Wonderland will never be the same.
Plot
As previously mentioned this was a trip down memory lane, there was the rabbit-hole, the mad hatter, the Red Queen but with a twist. This was quite a dark and horrific fairy tale dealing with mental illness and magic simultaneously There would be these absolutely cringe worthy bits (Live roasted Duck anyone?) but I loved it because it was crazy, mad but fun. The plot twists was very interesting but I wasn't as blown away by it as I was supposed to.
Characters
Alyssa was a pretty understandable character. I liked her because her actions were justifiable, her feelings were real and she just seemed like a well-balanced character. There was nothing too swoon or nothing too annoying about her. Although I feel like my perception of the characters, mainly Morpheus was very dependent on Alyssa's experiences and such. I just can't seem to be decisive about Morpheus. .
Writing
First of all, great world-building or should I say re-building, I feel like the scene was set nicely and characters would appear and reappear smoothly.  There was a healthy blend of humour, life lessons and general struggles. It's just the writing needed more voice, more life, it felt kind of monotonous especially towards the end.
Splintered was a well-balanced book but it didn't leave an impression on me, it didn't excite me except for the childhood glee in the beginning while Alyssa enters the rabbit-hole. But it was a mediocre book. The story was wrapped up well so I don't understand how there is room for a sequel? I guess I'm just gonna have to read the next one.
Rating