Title: A Court of Thorns and Roses
Author: Sarah.J.Maas
Genre: YA Fantasy
Series: A Court of Thorns and Roses #1
Source: Allen & Unwin
RRP: AU$16.99
Synopsis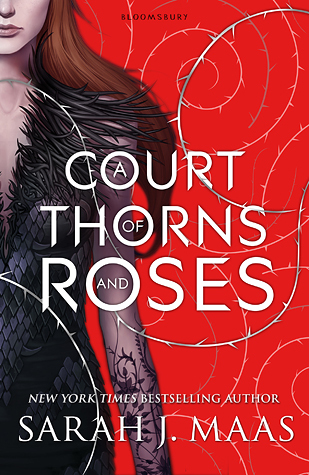 Feyre's survival rests upon her ability to hunt and kill – the forest where she lives is a cold, bleak place in the long winter months. So when she spots a deer in the forest being pursued by a wolf, she cannot resist fighting it for the flesh. But to do so, she must kill the predator and killing something so precious comes at a price.
Dragged to a magical kingdom for the murder of a faerie, Feyre discovers that her captor, his face obscured by a jewelled mask, is hiding far more than his piercing green eyes would suggest. Feyre's presence at the court is closely guarded, and as she begins to learn why, her feelings for him turn from hostility to passion and the faerie lands become an even more dangerous place. Feyre must fight to break an ancient curse, or she will lose him forever.
Apologies for the lack of content on the blog recently. Life has just been so crazy busy these past few weeks. But I'm back with a bang. Let me just begin by saying it took me a while to get through this book which didn't constitute to a great reading experience to be honest.
Plot
The book was paced a little too slowly for my liking. At times I just couldn't stop turning the pages but more often than not it was just draggy and required quite an effort to continue reading. The world-building was done well, what with the history of the Fae Kingdom being explained however, I just couldn't stop noticing how hard the book was trying to become High Fantasy.
I have to admit there were some rather steamy and scandalous moments in the books and the plot picks up quite well during the second half of the book.
Characters
I found it quite difficult to relate to Feyre at the beginning. Surely, no one could be that selfless but I have to say, she grew on me. She isn't a badass YA heroine to begin with but she has determination. But (there's always a but) I felt like she kept getting too lucky throughout the whole novel you know, I mean do YA characters have an unlimited pot of luck or something?
As for the love interest, Tamlin, although he was charming I found the nemesis, Rhysand much more interesting. His mysterious past and motives behind helping Feyre oh.
Writing
The writing is very descriptive, almost to the point of being boring. I found it very difficult to immerse myself in this book but nonetheless the plot and characters made up for it. I just wonder what the sequel might entail?
Rating