Bit late I know but no one ever did blogging and Year 12 and got out alive hah
This episode should've been titled "The Feels"
Let's just take a moment to pay homage to the most beautiful character in the entire series…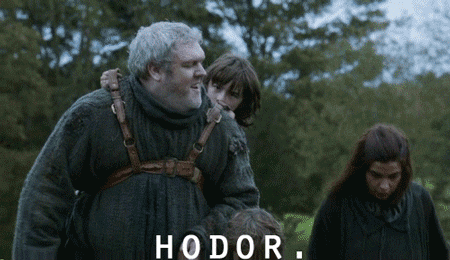 This was by far the saddest and most heartbreaking death since Hodor is as pure as you get in Westeros really.
It's mind boggling to think that GRRM had Hodor's whole life planned out like his life purpose was to HOLD THE DOOR
But alas, all good things must come to an end.
Hopefully Bran and Meera make it out alive from that wasteland and find friendly faces.
The fact that The Children of the Forest created the White Walkers just seems like Karma to me to be honest, but the damage is done I guess.
It's gonna be really interesting to see Sansa build an army to take back the North, cue motivational speeches and of course awkward high school romances..
The part with Dany and Ser Jorah was super sad as well, I couldn't help noticing what a good actress Emilia is!
The situation with Arya has me thoughtful, I mean she will come back to Westeros but HOW and WHEN?
I love how for basically the entire season we have ignored Dorne like what is going on there?