Title: The Yearbook Committee
Author: Sarah Ayoub
Genre: YA Contemporary
Synopsis: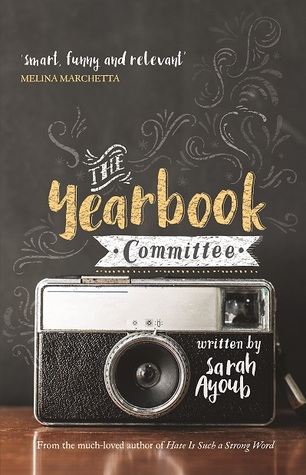 Five teenagers. Five lives. One final year.
The school captain: Ryan has it all … or at least he did, until an accident snatched his dreams away. How will he rebuild his life and what does the future hold for him now?
The newcomer: Charlie's just moved interstate and she's determined not to fit in. She's just biding her time until Year 12 is over and she can head back to her real life and her real friends …
Read More at Goodreads 
To be perfectly honest, I am quite impressed with this book, I mean my expectation going in was a light contemporary read about love and life (stereotypical much?)  however, the Yearbook Committee is about so much more: Mental illness, bullying and psychological stuff-ups that I can't even begin to describe and yet, they are so prominent in high school.
The Australian high school hierarchy is captured so accurately, it was refreshing after reading endless American novels about cheerleaders. The voices of the characters weren't too distinct I must admit however, the dialogue was very well written and although the character journeys weren't so obvious, it added an element of reality. I mean we don't all turn from bullies into superstars in the span of 300 pages do we?
The writing felt a bit basic I must admit but it was suitable to the events in the book because I was always worried it would turn too melodramatic. The down-to-Earth way the book is written meant that events weren't too predictable and the element of surprise in the end was delivered perfectly.
The Yearbook Committee just does such a great job of encapsulating the problems Australian teenagers face from winning scholarships to drugs while at the same time, it addresses larger societal issues such as living with a disability or broken families.
Rating