Title: Am I Normal Yet?
Author: Holly Bourne
Series: The Normal Series #1
Genre: YA Contemporary
Synopsis: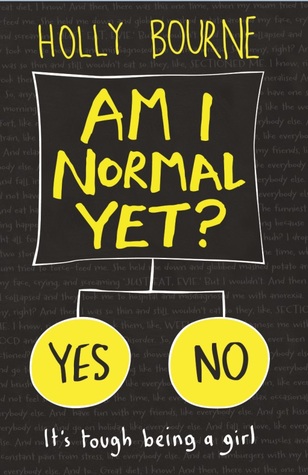 All Evie wants is to be normal. She's almost off her meds and at a new college where no one knows her as the girl-who-went-crazy. She's even going to parties and making friends. There's only one thing left to tick off her list…
But relationships are messy – especially relationships with teenage guys. They can make any girl feel like they're going mad. And if Evie can't even tell her new friends Amber and Lottie the truth about herself, how will she cope when she falls in love?
GUYS I POSSIBLY JUST FINISHED THE BEST BOOK! If you know me, you know I'm quite a critical person and it's not that easy to get me so excited about a book. But YOU MUST read this book. Here's why:
Our protagonist Evie has one of the most distinct and honest voices the likes of which I've only read in John Green books. From the get go you're inside Evie's head and even after finishing the book I have moments when I can imagine what Evie would make of the situation I'm in. The author does a brilliant job of portraying the world through the perspective of someone who has OCD.
Which brings me to the ever-important theme of mental illness explored in the novel. Unlike other novels I've read where mental illness is sugar coated or represented through fifty million metaphors this book just says it like it is. It's realistic, it acknowledges that mental illness is a REAL problem with REAL drawbacks.
I also like how the novel makes a point that mental illness has now become somewhat mainstream and people believe it's okay to throw around words like OCD or bipolar without realizing that it is an actual illness that people actually suffer.
This book wins at diversity
Aside from mental illness we also see the exploration of feminism. The topic is represented in a humorous and quirky way which makes it much more interesting and I can now safely say I have learnt SO MUCH about women's rights and mental illness in regards to women and oh the importance of cheesy snacks while discussing the said issues of course.
Now don't get the impression that Evie hogs the whole novel because we also see cyber-bullying, drugs and other forms of mental illness, basically all issues that would concern teenagers of the modern world. A majority of the reason I enjoyed the novel so much was because how relatable it was.
If genuine characters, diversity and cheesy snacks sounds like your cup of tea then I highly recommend you to pick up this book.
Rating
I wouldn't have known the existence of this novel if it weren't for my Aussie Secret Santa @soundless_rune_le_bookdragon so thank you so much!