Title: Dumplin'
Author: Julie Murphy
Genre: YA Contemporary
Release Date: 15th September 2015
Synopsis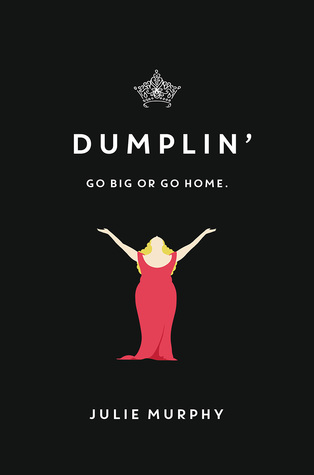 Self-proclaimed fat girl Willowdean Dickson (dubbed "Dumplin'" by her former beauty queen mom) has always been at home in her own skin. Her thoughts on having the ultimate bikini body? Put a bikini on your body. With her all-American beauty best friend, Ellen, by her side, things have always worked . . . until Will takes a job at Harpy's, the local fast-food joint. There she meets Private School Bo, a hot former jock. Will isn't surprised to find herself attracted to Bo. But she is surprised when he seems to like her back.
Instead of finding new heights of self-assurance in her relationship with Bo, Will starts to doubt herself. So she sets out to take back her confidence by doing the most horrifying thing she can imagine: entering the Miss Clover City beauty pageant—along with several other unlikely candidates—to show the world that she deserves to be up there as much as any twiggy girl does.
Thank you so much to Penguin Teen Aus for introducing me to this beauty!
Alright, Dumplin' guys, what a read. Seriously.
Have you ever just read a book that so starkly represents reality in all its messiness and amazingness, well that;s Dumplin' for ya.
To be honest, going into this book I expected it to be a story of how a beauty pageant changed a girl and glamorized her and how she won over this hot guy as a result of that. That's the societal influence talking.
We often feel like we have to change ourselves to achieve certain things, that we have to 'be' a certain way in order to for example, enter a beauty pageant.
No. Willowdean aka Dumplin', our protagonist sets that notion straight when she enters the beauty pageant just as the way she is, and throughout her journey into this pageant she doesn't try to lose weight or wear makeup or change herself in any way. She learns to accept herself, Willowdean is an accurate representation of any young girl, no matter what size. She has her struggles and hormones and confusions and that's what makes this book so beautiful, it doesn't glamorize.
I like how she makes mistakes, I like how she has friendship struggles and boy problems because heck even YA heroines need a break. Most importantly, I like how her romance with Bo wasn't EVERYTHING in this book, the book centered more on Willowdean finding herself and learning to make her own decisions.
Oh and let's not forget the most important part, the book also ended up converting me into a Dolly Parton fan because Self-expression all the way!
Rating: