Title: To All The Boys I've Loved Before
Author: Jenny Han
Series: To All The Boys I've Loved Before #1
Genre: Contemporary
Page Count: 288 pages
Synopsis :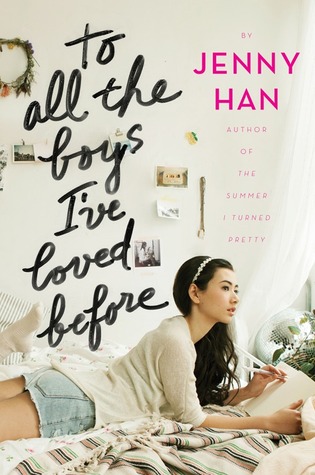 To All the Boys I've Loved Before is the story of Lara Jean, who has never openly admitted her crushes, but instead wrote each boy a letter about how she felt, sealed it, and hid it in a box under her bed. But one day Lara Jean discovers that somehow her secret box of letters has been mailed, causing all her crushes from her past to confront her about the letters: her first kiss, the boy from summer camp, even her sister's ex-boyfriend, Josh. As she learns to deal with her past loves face to face, Lara Jean discovers that something good may come out of these letters after all
This book was so freaking cute let's establish that. Having read Jenny Han's work previously and not liking it, I was skeptical going into this but I can confirm this was one entertaining read.
I consider myself a dreamer like Lara Jean so it was easy for me to relate to the events in this book which was fun. I'm sure people with sisters will also relate to this book because of all the different dynamics of a sisterhood being explored in this book. Seriously it made me want to have a sister (not really tho)
It's quite a light read so I found it easy to whiz through. I like the quirky fashion references throughout the book, I mean Lara Jean's style has me dreaming, so cute and chic.
I like all the relationships being developed in this books, I mean it didn't just center around the love interests but also families and friends.  There were these funny moments which had me laughing out loud. At times I felt the book was predictable but there were these unpredictable aspects which threw me off and i loved it!
The book finished off on an open ended note which has me dying to run out and start reading the sequel!
Rating