Title: Aristotle and Dante discover the secrets of the universe
Author: Benjamin Alire Saenz
Genre: YA Contemporary
Page Count: 368 pages
Synopsis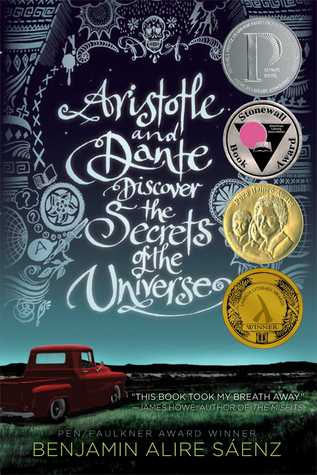 Dante can swim. Ari can't. Dante is articulate and self-assured. Ari has a hard time with words and suffers from self-doubt. Dante gets lost in poetry and art. Ari gets lost in thoughts of his older brother who is in prison. Dante is fair skinned. Ari's features are much darker. It seems that a boy like Dante, with his open and unique perspective on life, would be the last person to break down the walls that Ari has built around himself.
But against all odds, when Ari and Dante meet, they develop a special bond that will teach them the most important truths of their lives, and help define the people they want to be. But there are big hurdles in their way, and only by believing in each other―and the power of their friendship―can Ari and Dante emerge stronger on the other side
Aristotle and Dante was a real eye opener as to what it's like growing up especially for boys and from a sixteen year old's perspective (aka me) growing up sucks, which is why I could relate to this book so well.
Plot
The story is very in line with all those coming-of-age classics and it is just beautiful. I think the book did a very good job of establishing the fact that everyone has their own struggles especially teenagers (not biased at all)
I don't have much to say about the plot except that it was steadily paced and I liked how the book was divided into sections to represent various things (it'll make sense if you read it
Characters
The characters are the heart and soul of this book. Ari is a very realistic teenager who feels angst and confusing emotions until finally he learns to control and accept these feelings and emotions. However, sometimes it did get difficult to understand Ari's emotions and why he felt the way he felt about certain people. I think it was just part of this thing called growing up
I like the whole family dynamic of the novel as well. Often in YA the parents tend to just not exist basically but this book did quite the opposite. It was understandable because growing up has a lot to do with becoming independent from your parents and coming to terms with them.
One of the things I loved about this novel was that every character was explored and illustrated well, I mean from Dante's mom to Ari's aunt.
Writing
Going into this book I thought there would be alternate POVs between Dante and Ari but nope, it's all from Ari's perspective. I would've loved to read Dante's POV but hey you can't have everything. In many ways, it felt like the author was telling his own story about growing up which just felt so personal and amazing. One complain would be that while following the dialogue it sometimes got difficult to distinguish the voices as in who was saying what.
Rating