Hello people of the interwebs
Have you noticed my absence? probably not. But yeah I've been absent but why? before that we got a book to review.
Title: The Heir
Author: Kiera Cass
Series: The Selection #4
Genre: YA Dystopia/Romance
Synopsis: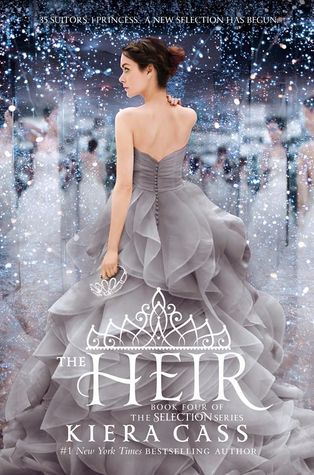 Princess Eadlyn has grown up hearing endless stories about how her mother and father met. Twenty years ago, America Singer entered the Selection and won the heart of Prince Maxon—and they lived happily ever after. Eadlyn has always found their fairy-tale story romantic, but she has no interest in trying to repeat it. If it were up to her, she'd put off marriage for as long as possible.
But a princess's life is never entirely her own, and Eadlyn can't escape her very own Selection—no matter how fervently she protests.
Eadlyn doesn't expect her story to end in romance. But as the competition begins, one entry may just capture Eadlyn's heart, showing her all the possibilities that lie in front of her . . . and proving that finding her own happily ever after isn't as impossible as she's always thought.
First of all, can we just take a moment to admire the cover. I can never get over the gorgeous dresses ah I'm such a wannabe princess.
I don't have much to say about this book because 1) it's just a light read ye know and 2) I've been crazy busy to form coherent, critical thoughts about anything I'm reading. But here are a few pointers:
It was weird but cool to see old characters like America all grown up
Eadlyn is such a good character! she's like me, so much like me. She was very realistic and I could empathize well with her.
I feel like the boys weren't developed well, even the ones we saw very often
It was a very obvious and predictable story line. You could tell things were purposely PUT in place. They didn't HAPPEN.
The ending was a bit sudden and out of the blue but okay we need something to look forward to in the next book
Of course I'm already rooting for Kile, our guy protagonist.
Rating
---
UPDATE
I know it doesn't seem like it but I feel like I haven't posted as much this week.
Part of the reason is because school is literally crushing me, I had no motivation to do schoolwork let alone anything else
I feel like if I'm not going to be able to put quality content out there, I shouldn't put any content at all hence, the absence
So this is just a heads up if in the coming weeks I  just disappear off the face of this blog.
But I hope you're having a good life!