Title: The DUFF (Designated Ugly Fat Friend)
Author: Kody Keplinger
Genre: YA-Contemporary
Page Count: 280
Synopsis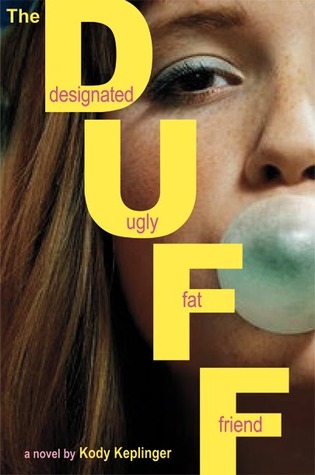 Seventeen-year-old Bianca Piper is cynical and loyal, and she doesn't think she's the prettiest of her friends by a long shot. She's also way too smart to fall for the charms of man-slut and slimy school hottie Wesley Rush. In fact, Bianca hates him. And when he nicknames her "the Duff," she throws her Coke in his face.
But things aren't so great at home right now, and Bianca is desperate for a distraction. She ends up kissing Wesley. Worse, she likes it. Eager for escape, Bianca throws herself into a closeted enemies-with-benefits relationship with him.
Until it all goes horribly awry. It turns out Wesley isn't such a bad listener, and his life is pretty screwed up, too. Suddenly Bianca realizes with absolute horror that she's falling for the guy she thought she hated more than anyone.

The movie hits cinemas really soon so I decided 'bout time I add another book to movie adaptation onto my shelf. Honestly though, I've been eyeing this book since Year 8 so I'm glad I finally read it.
Plot
I feel like the story was set in such a short time frame that it almost gave me the idea that I flew by this book. It is quite a short book but a lot seems to happen. I like how there were these carefully placed events that contributed to character development or a new relationship.
Speaking of contribution. The Sex. There is a lot of sex in this book (okay not A LOT but quite a bit in comparison to other YA books)
In majority of YA that I've read so far the sex is just there like it doesn't add anything to the story or the behavior or the relationships of the characters.  It's just there for shits and gigs and me no likey. I like how sex in this book was a means of escapism for Bianca but it also ended up making her feel secure with Wesley. It was meaningful  to the plot.
Characters
Bianca was such a down-to-Earth bitch and I loved it! at times she reminded me of a particular friend of mine and she was just so real. I like how the story progressed and Bianca became more confident in herself and she managed to finally face reality. She didn't let a label (DUFF) define her or make her insecure anymore.
Writing
Okay so initially i felt like the dialogue was really superficial. Try to understand my situation here, I'd just read The Handmaid's Tale which was a dead serious book so transitioning from that into high school drama was quite a job.  Nonetheless, there were some bits that had me laughing out loud which is always a good sign. I just feel like there was lots of dialogue (almost too much) and not enough narration. This way you can't really understand the character's train of thought or their past etc.
Overall, The DUFF was quite an enjoyable read it just wasn't amazing. It didn't blow me away or anything but I liked the message that at the end of the day we're all the same. We all go through shit and once in a while everyone feels like The DUFF
Rating