Title: Heir of Fire
Author: Sarah.J.Maas
Series: Throne of Glass #3
Genre: Young Adult Fantasy
Page Count:  562
Synopsis: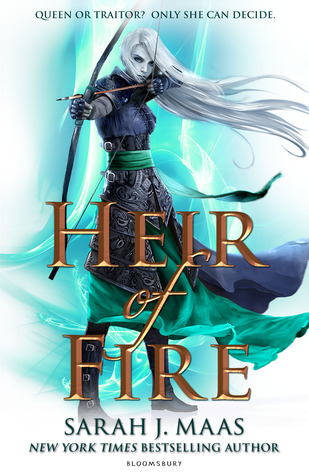 Consumed by guilt and rage, Celaena can't bring herself to spill blood for the King of Adarlan. She must fight back…
The Immortal Queen will help her destroy the king – for a price. But as Celaena battles with her darkest memories and her heart breaks for a love that could never last, can she fulfil the bargain and head the almighty court of Terrasen? And who will stand with her?

Now that I'm finally done with this hunk of a book let's get talking. Reading Heir of Fire was like being hit with a tsunami of knowledge and emotion and I loved it!
Plot
Adventurous would be a very fitting word to describe the plot. You're thrown from one magical place into another, from kingdoms to witch covens. There is never a dull moment or should I say a moment to catch your breath because everything happens in a sequence of action and adrenaline.  We finally fully get to experience magic whether it's in Dorian or Celaena or Rowan and I'm down with it.
Although I am a bit confused about the geography and all the new discoveries that were made in the book I think the events unfolded nicely and the book was well paced. I wasn't too fazed by the first book but in Heir of Fire I just felt like the book had more substance and the ending was definitely not what I expected.
Writing
I'm just gonna reiterate what I said just then, the book just had more depth and clarity. Although I can't help but feel that the third person narrative restricted me from completely engulfing myself in the character's misery or victory. I could still feel the feels but I just wasn't drowning in them.
Characters
Celaena's badassery was finally exposed in it's full glory. Her character development was so well done from being miserable over her friend's death to finding confidence in her magic and herself. Celaena kicking butt and then in the end when she's all sassy to Maeve and she accepts the role of Queen (kind of). I also absolutely loved the fact that we travel to her past and that just provides so much clarity to her character now.
Celaena's relationship with Rowan was interesting to say the least.  I love how they grew onto each other and opened up until finally they're pretty much besties aw. I want to elaborate but I shall do that in the spoilery post.
Manon's POV was by far my favourite. There's something about ruthless, cruel, hard beauty that has me intrigued. The idea of competing in games and clan rivalry is cliche but in the best way.  It was interesting to see her perspective on things and how certain creatures changed her for the better.
Heir of Fire is one hefty book filled with supernatural powers, friendships, love and just plain badassery. You can't go wrong with that combination so it was no doubt a highly enjoyable book.
Rating