Title: The Ruby Circle
Author: Richelle Mead
Series: Bloodlines #6
Genre: Young Adult- Paranormal
Page count: 348
Synopsis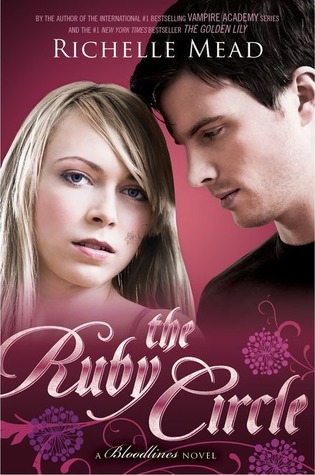 The epic conclusion to Richelle Mead's New York Times bestselling Bloodlines series is finally here…
Sydney Sage is an Alchemist, one of a group of humans who dabble in magic and serve to bridge the worlds of humans and vampires. They protect vampire secrets—and human lives.
After their secret romance is exposed, Sydney and Adrian find themselves facing the wrath of both the Alchemists and the Moroi in this electrifying conclusion to Richelle Mead's New York Times bestselling Bloodlines series. When the life of someone they both love is put on the line, Sydney risks everything to hunt down a deadly former nemesis. Meanwhile, Adrian becomes enmeshed in a puzzle that could hold the key to a shocking secret about spirit magic, a secret that could shake the entire Moroi world.
I thought I would whiz through this book the night of the release. I thought I would have to tell myself to slow down because I would need to savour every little detail before it all ends forever but I was wrong.  The whizzing was more like a turtle's half-hearted crawl, and the savoring? let's just get stuck in this review.
Plot
Alright when I think Bloodlines plot I think action that has me sweating. Romance that has me breathless. What I got instead was more like a family drama saga, honestly I felt like I was reading one of those romance drama books I've always despised. All the major plot points unfolded perfectly, the characters were at the right place on the right time and that's the thing it was SO predictable. I was always somehow reassured throughout the whole story that everything was going to be okay and I'm not buying that. I'm all about the adrenaline and the unexpected.
Writing
My involvement in the book itself slowly deteriorated because there just didn't seem to be any life in the words, any fire. I feel so bad admitting this because I love Richelle but I would skim some parts because I just couldn't bring myself to stick my nose in the book.  Even the dialogue seemed monotonous and at some parts I couldn't distinguish whether the chapters were from Sydney's PoV or Adrian's. Their voices were just too similar.  But I must say, thanks to my friends motivation I did become highly anticipatory towards the end because I was promised a bombshell but as I said before, too predictable.
Characters
I must admit it was great seeing almost everyone from Vampire Academy and Bloodlines reunite and some new characters (wink wink nudge nudge)/ But again I felt like some nonchalant and hasty decisions were made by the characters which didn't leave much room for growth really.
The Ruby Circle was not an ideal conclusions for Bloodlines but it wasn't an un-ideal one either. In the end I got the happily ever after I wanted so I shouldn't be complaining but I am.
Rating